This dish is for those who love shellfish. As the nights get cooler in the Southern Hemisphere, it is a cosy main course. It is a variation on
Brie Mussels
, provided by Clarice over at
Storybook Woods
. And while you are there, have a look at Clarice's take on
How to roast a chicken
.
Very interesting and very creative.
SAUCY SEAFOOD 3 bacon rashers with rind removed 1 leek - or replace it with 2 onions Fresh garlic. Mis Eagle loves heaps. 1kg shellfish - this comprised green mussel meat, green prawns, and scallops, debearded
1 cup dry white wine (or water but wine is better) 1/2 cup heavy cream 1/4 cup chopped fresh parsley 2 tablespoons Dijon Mustard 1 ( around 8-ounce) brie, very cold, rind removed and cut into pieces
In a large pan fry bacon and set aside crisped bacon. Drain off most fat. Keep 1 tablespoon and add oil. Sautee leeks/onions until tender, about 5 minutes. Add the garlic, 1/2 the parsley, and bay leaf and cook, stirring, for 1 minute. Add the shellfish, wine, and cream, and bring to a boil. Cover, lower the heat and cook, shaking the pan occasionally, about 5 minutes. You will know when the shellfish is cooked when the green prawns turn red. Remove from the heat. Discard bay leaf. Stir in Dijon. Add cheese, crumbled bacon, rest of parsley. Pour into a large, deep serving bowl. Serve immediately with hot French bread for dipping and lemon wedges.
And for dessert, straight from Miss Schauer and The Schauer Australian Cookery Book is something quite old-fashioned, Lemon Pudding.
LEMON PUDDING
Grease pie-dish. Butter bread, cut in dice, put 3 layers at bottom of pie-dish. Melt 2oz. of butter in a saucepan, add the juice of 2 lemons and the rind of 1, add 1 cup sugar, small cup water, the yolks of 2 eggs, beat well. Put into oven to set, then place meringue on top, sprinkle with pink sugar.
Miss Eagle's Notes: Yum yum. Luscious. However, would suggest an extra white for the meringue. Felt it spread a bit thin. An extra yolk into the mix would go well.
MISS EAGLE'S MERINGUE
Bowl and beater should be cool and dry. When separating whites from yolks, there must be no skerrick of yolk polluting the whites. Unless Miss Eagle is doing large quantities, she prefers to use her favourite rotary beaters (see previous post). Beat whites until stiff (they will be a soft-ish sort of stiff) and then add caster sugar a dessertspoon at a time to taste. The adding of the sugar slowly and beating well in before each addition gives the stiffness to the meringue. All sugar should be beaten well in so that no grain can be detected. After placing on pie, return to oven which is very low and leave meringue to set and brown slightly.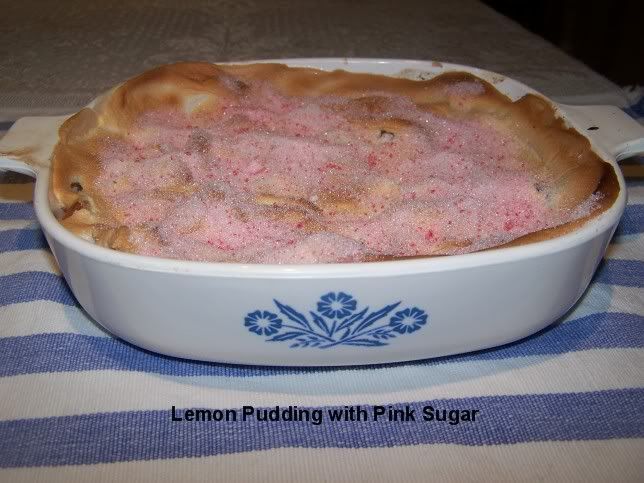 MISS EAGLE'S PINK SUGAR
Take about 2 tablespoons of sugar and add about two drops of red food colouring or cochineal. Mix in with a spoon. Colouring should be used very sparingly to give the sugar its pale pink colour. A little goes a long way. If you don't use the full amount, the rest can be stored in a jar for use next time.