Dear Reader, you may not be able to tell the difference, but in the photo above the scones on the left are Buttermilk Scones and the scones on the right are Ginger Scones.
Miss Eagle has been busy baking some of Miss Schauer's scone recipes. Now Miss Eagle has never baked one of Miss Schauer's scone recipes. She has another favourite which she always does in the kitchen whizz. But more of that for another post. Ms Robyn, please take note. Miss Eagle thinks the scones you may have been dreaming about are the Buttermilk Scones - and they are the easiest scones Miss Eagle has ever made.
BUTTERMILK SCONES
Sift together into a mixing bowl 2 cups flour, 1 teaspoon bi-carb soda, 1 level teaspoon cream of tartar, 1/2 teaspoon salt, and mix to a dough with about 1 cup of buttermilk. Quickly roll out to 1/2 in. thickness, cut with knife or cutter into shapes desired and bake in a good hot oven 10 to 15 minutes. May be baked on a girdle. Serve butter or with whipped cream and favourite jam, as black currant jam.
Note: These are so easy. Miss Eagle mixed them in the trusty Kenwood Chef with the dough hook. There is no butter to rub into the flour etc. Just put the ingredients in and mix with the buttermilk. The result is a lovely soft dough. When making any form of pastry or batter, it should be recognised that the amount of fluid is, in reality, a guide. More may need to added because all flour is not equal. Absorbency of flour varies. When adding extra fluid, add small amounts with caution so that you don't overdo it, dear Reader. This quantity of dough made six scones when cut with a round scone cutter measuring 6.5 cm ( 2 1/2") in diameter.
GINGER SCONES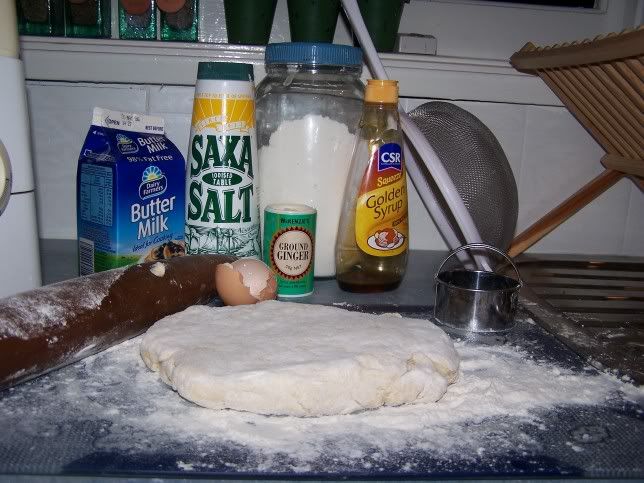 Rub into 1/2 lb self-raising flour 1 large tablespoon butter, 1 teaspoon ground ginger, add 1/2 teaspoon sugar and a pinch of salt. Work into a scone dough with the yolk of an egg beaten with 1 teaspoon of black treacle and a good half cup of milk. Turn on to floured board, knead very lightly, press out, cut with round cutter, brush over with a little of the milk and egg that it was mixed with. Place on hot greased tin and bake in quick oven for 12 to 15 minutes. Roll in clean cloth till cold.
Note: This recipe makes six scones with enough left over for a little knobby ball not big enough for the cutter (for size of cutter see above). The ginger flavour is very subtle so if you would like a stronger flavour you, dear Reader, will have to experiment with adding a little more. Miss Eagle had no treacle and there was none on the shelves at her local Maxi supermarket. She substituted Golden Syrup. Treacle would provide a stronger flavour. Eve Neilsen's Fig and Ginger Jam was the perfect match for these scones.